Product Review: Tarte Cheek Stain
cruelandpretty says:
I had some gel blush made by clinique that I loved, but now I'm out and they don't make the color I had anymore! The three (I think) colors that I saw at the counter were not at all flattering to my skin tone (no pinks!). I've been curious about tarte's gel blush for a while, but not enough to try it, especially for the price. I have oily skin and have found that gel blush lasts longest, so I might be willing to splurge if others have had good experiences with it...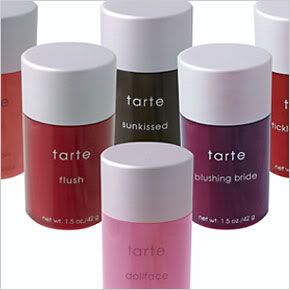 Ever since Tarte Cosmetics introduced their line of Cheek Stains, the raves haven't died down---and for good reason! I'm a big fan of this high-quality and easy-to-use product, although it took a bit of experimentation to get it right.

The selection of colors is extensive, although there are a few randoms in the mix. The shades offered are suitable for every skin type, whether fair or dark complected. I have fair skin with rosy undertones, yet a warm palette, so I use Blushing Bride. I've sampled Tickled Peach, Tipsy & Flush and each color seems to look very natural.

Tarte's Cheek Stains are oil-free and they don't clog your pores. I have oily skin and this product does not contribute to the afternoon greasies. It has real staying power, too---I apply it in the morning before work and my color is still fresh by quitting time. Stain is an appropriate term. The product is sheer in nature and delivers a slightly dewy finish. A little goes a long way, and it's easy to add more for a hot nighttime look.
However, the product takes some time to learn how to use. It's container is a cylindrical shape and one might be tempted to apply directly from the container to the cheek. Because the surface area of the product is large, you end up with a streak, much like a line of roll-on deodorant on a black shirt. The product is best applied by using your fingertips and dotting color on the desired area of your cheeks, then blending. This way, you are able to control the coverage.

The product also doesn't mix well with heavily powdered faces. It's a bit tacky (as in sticky) when dotted on your face. If you overdo the fingertip blending, it's possible to muddy the product with your existing foundation. It's best to be accurate the first time when applying, because the product is not very forgiving.

Bottom line: I love this product and with practice, it has become a staple in my makeup arsenal. The goal of a natural body flush is accomplished. The product has lasted me a very long time and I'm nowhere close to needing a replacement. The $28 pricetag accurately reflects the value of the product---in fact, I'd pay more!

Photos courtesy of Sephora and Tarte.