Staying Power
Just like you paint the walls in your house, priming your face daily for application of your makeup ensures it will even-out your skintone, provide a shield for unwanted combatants, and stick around from 9-to-5. Building your foundation is easy, starting with a clean, fresh slate.
I don't know of anyone who looks flawless without their makeup. Roseacea, busted capillaries, excess shine, breakouts, dark circles or patches of unwanted freckles all contribute to ruddiness. Most of us rely on our bottle of foundation to hide our imperfections, but a truly flawless is acheived through color correctors and mattifiers.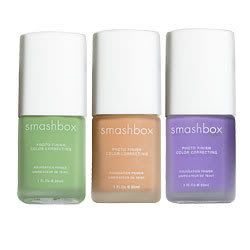 Color correctors look intimidating at first---what's up with that green and purple goo? Remember the color wheel from your sixth grade art class? Well, red is neutralized by the color green, and yellow is neutralized by the color purple. This means that a dab of bright green will make pink patches disappear, and a pat of purple will bring your sallow-yellow up to golden perfection. Smashbox Photo Finish Color Correcting Foundation Primer stablizes facial discoloration.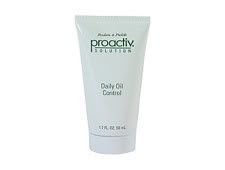 Were you blinded by shine the last time you looked in the mirror? If you have skin prone to producing an abundance of oil, either all over or in your t-zone, you'll be the first to testify that oily is not the new dewy---it's a nuisance. Stop oil in its tracks by spreading a light layer of mattifier over your problem areas. Mattifiers work to decrease oil production and some also include ingredients to prevent and fight emerging acne. Proactiv's Daily Oil Control balances skin chemistry and won't clog your pores!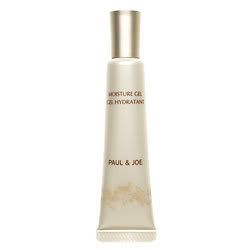 Maybe you simply want a solution that smoothes fine lines and wrinkles away, while subtly moisturinzing, to create the perfect canvas. Makeup caked in our crow's feet and forehead wrinkles are never pretty. If you have dry skin, a lightweight moisture gel will caulk those annoying little crevices and hydrate to prevent new ones from forming. Paul & Joe Moisture Gel maintains intercellular lipids, while protecting the skin.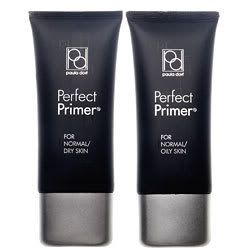 All of that smoothing and hiding becomes meaningless if all of your makeup has melted off. For your face, choose a primer to set any foundation you apply, ensuring a flawless finish all day long. Picture your primer as your "makeup glue." If you apply too much, it will glop and pill on your skin. But a light layer, will give your makeup true staying power all day long. Paula Dorf's Perfect Primer will fresh your face from morning coffee to evening martini.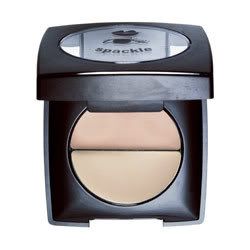 For extra advantage, try an eye shadow primer and a lip primer. Less is more, and the same rules apply in regards to the amount you use. Gummy eyelids and chalky lips are never attractive. Laura Geller's Lip and Eye Spackle will keep your eyes exciting and your pucker preserved.
Photos hyperlinked to online vendor.