Fall Furor: Part One
The runways have finally come alive, and after a fashionably boring summer, fall delivers a smattering of trendy wears. Unleash the trends!
Full Metal
Shimmery shades of gold, copper and silver are shinging brightly from the runways. The great thing about metallics are the range of moods one can employ. Use bronzy colors to create a warm effect, and pewter hues for cool attitude. Go for muted metals. Too much patina can look cheap and distracting.
The Good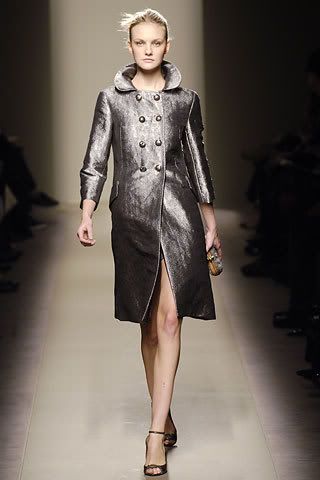 Bottega Veneta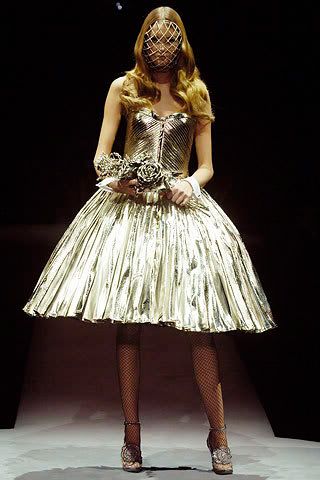 Viktor & Rolf

The Ugly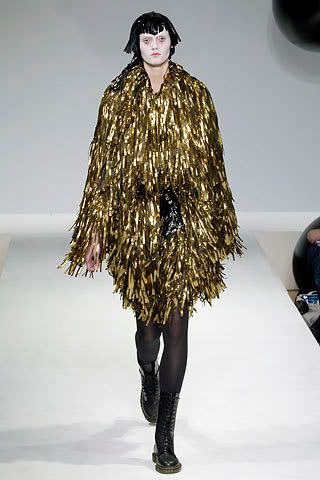 Gareth Pugh
Plaid is Rad

The last time I wore plaid was circa 1997. I was sixteen years old and it was a pleated skirt that channeled naughty Catholic schoolgirl. I've got to give myself some credit---afterall, Brit copied the look two years later. I'll admit, I didn't see plaid resurfacing anytime soon, but here we go again.

Plaid doesn't have to remind us of the pop princess, William Wallace, or Paul Bunyan. This season's modernized twist on plaid boasts tailored, feminine shapes in non-traditional fabrics like chiffon or silk. Look for windowpane or tartan-style plaid to surface in an array of primary colors. Plaid tends to cast a heaviness on the body, so steer clear of oversized pieces. Opaque tights offset a plaid ensemble nicely.

Fabulous


Primal Progression
Animal prints are a toughie. On one hand, they make great accessories. On the other hand, head-to-toe leopard can be a bit scary. Go ladylike and be adventurous with animal print handbags, shoes and scarves. Conserve on animal print dresses and coasts. Find that happy medium, where fashionista and animal can leave peacefully.
Meet Heinous
& Abomination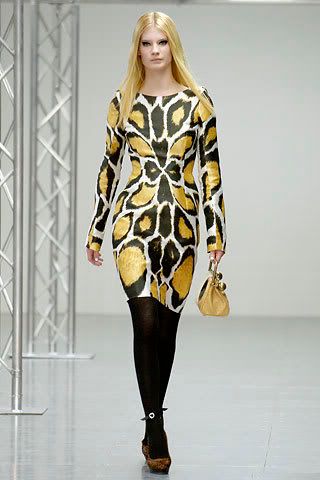 Furs are also resurfacing, but I am finding most of them suited for Cruella de Vil. Seriously---have you ever seen a fur coat that wasn't a bit over the top? If you must, wear contoured pieces that reduce bulk. And for goodness sakes, consider synthetics, if for nothing else than to keep the PETA people off your back.

Fur-tastic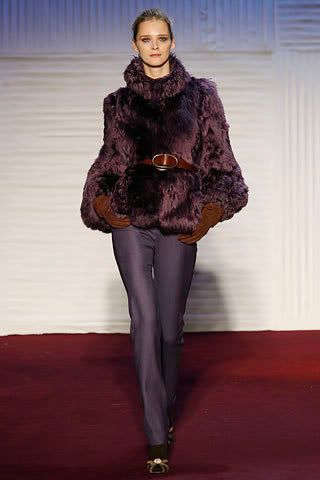 Fur-tastrophe
The season is full of bold moves allowing experimentation and risk-taking. But you don't want to be a fashion victim, and many of the season's trends will be a distant memory this time next year. Remember to use the runways as a guideline, not as the gold standard. Designers like to be theatrical and artsy, and that doesn't always translate well into the professional world. Have fun with it, but like my friend Lisa says, "it's like wrasslin'---it ain't real..."
Photos courtesy of Style.com