Caped Couture
They're uber trendy, yet classic, and a throwback to the Edwardian era. Enter, the capelet. Oddly enough, while they're hot on the runways, I had a hard time locating any in the stores and online. When I finally did, the color selection was nil, and the styles few.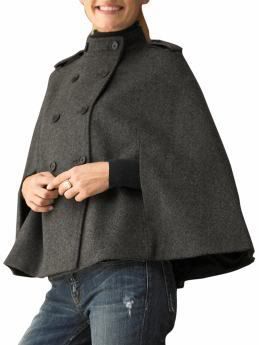 While few and far between, the capelet can be quite an interesting piece of your fall and winter wardrobe. Keep in mind a few things. Capelets are flowy and trapezoidal by nature, doling out plenty of fullness on top. You can wear this extra bit of fluff from the waist up, but only if you balance it out with minimalism from the waist below.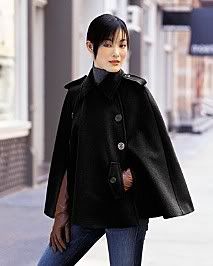 Pair your capelet with straight leg pants or a pencil skirt. Heels and flats work well, but use caution when wearing knee-high boots, which paired with a capelet, will only shorten your frame. The goal is NOT to look like the
Caped Crusader
...
Photos linked to online vendor.