Desperate on Date Night
Desperate on the east coast asks:
Las F, My 30th birthday is in 3 weeks. My boyfriend is taking me to one of the best restauraunts in the country to celebrate. I really don't spend much money on myself at all and I find myself completely clueless about what to wear. I need to go shopping and as a plus size girl... I feel limited in that department. I just got my hair cut.. just splurged on a pedicure. I'm ready for more and I need direction/advice! I'm uncomfortable with my legs, so skirts around the knee are really a no go. Help?????
Dear Desperate,
I like to think of your situation as "in need," rather than "desperate." Desperate means "without hope" and with a little guidance, all hope can be restored. As F. Seattle discussed back in March, full-figured women is a synonym for
foxiness
.
If your big birthday date is semi-formal in nature, meaning the restaurant you'll eat at has white linen tablecloths and crisp, starched napkins, a dress is most appropriate. The mistake made by plus-sized women when choosing a dress is forgetting to choose one with structure, therefore enveloping themselves in a tent. Curves are sexy, so don't be afraid to show them off!
The "Little Black Dress" is a staple for a big date, and while it may be conventional, it doesn't have to be boring. Take this black dress for example. The mid-section gathers draw the eye upward, and the v-neckline is perfect for some outrageously fashionable jewelry. The length of the dress hits mid-calf, modestly covering your lower half.
But don't pigeon-hole yourself with black--Afterall, it is springtime! Bring on the color!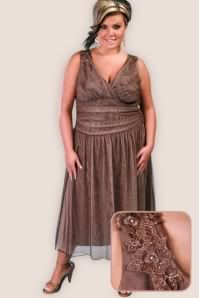 If you determine that you absolutely, cannot sport a dress for the big event, dress trouser pants will work just fine. Instead of black, step outside the box in a pair of crisp, tailored white pants.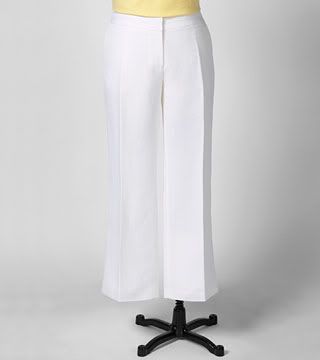 Compliment your white-hot pants with a dressy top in a bold color
And don't forget the most important part of any ensemble, the shoes!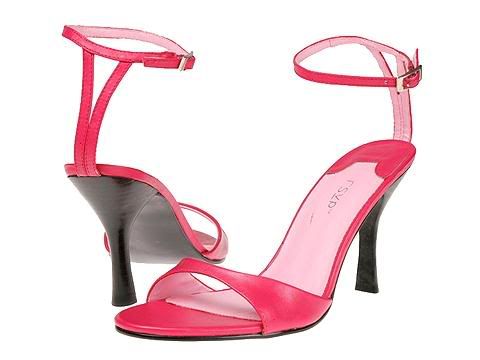 All photos are hyperlinked to online vendor.