Who wears short shorts?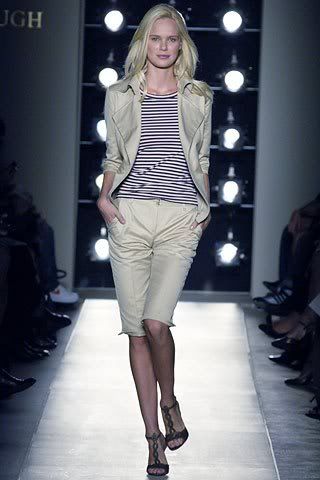 When capri pants made their way back to the fashion scene several years ago, I was overjoyed---gone were the days of wearing jeans in the dead heat of summer, or even worse, exposing my short and incredibly non-graceful legs to the masses. Neither was an appealing choice. So you can imagine my enthusiasm for a pant boasting happy medium. But despite the versatility and comfortability in a capri pant, I was still missing out on sporting a summer staple: the short.
Lucky for us all, whether petite or long-legged, whether curvy or thin, this summer ushered in a new variety of shorts from which to choose.
Two distinct styles of shorts are emerging this season. Much to my surprise, shorts of many lengths and designs are actually flattering on me!
Bermuda Shorts:
Longish in length and slightly tapered at the peak of the knee, this short is ideal for all body types! It's long enough to hide dimply thighs, but short enough to be breezy and cool. Bermudas wear wonderfully with flip flops or strappy wedge sandals, and can be dressed up or dressed down accordingly. And get this---the Bermuda shorts shown to the left are aptly named, "Fash-ion-is-ta!"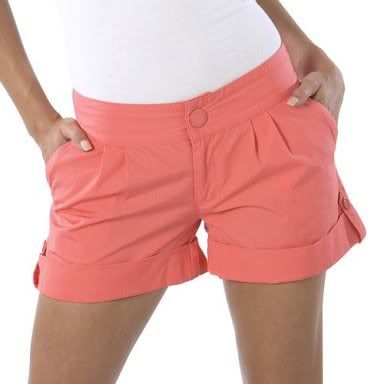 Short-Shorts:
Before you navigate away from this page in terror, give short-shorts another glance. They're redefined and reworked to be flattering for all. Short-shorts are boasting new styles including flat-front buttoned sailor, pleated, cuffed, belted, side-tied, and much more. There is a short-short out there for you, if you only give it a chance! When worn at the proper length and size, short-shorts will actually elongate the legs! Although, we're not granting you license to wear them so short that we all see your tush cheeks...
It's going to require some trial-and-error, experimentation and time in the dressing room until you find what works for you. But the effort invested is certain to yield a cool summer for your gorgeous stems!

Photos hyperlinked to online vendor.