Oscars 2007: Here's to hoping the bows stay on the red carpet
What is it with award show season this year? Is anyone else as disappointed in the dress turnout as I am? Maybe I'm a tough crowd, but not many dazzled me this year. However, I did notice that previous 2007 red carpet successes were delightfully consistent. Either these gals need to give their stylist a raise or they were born with the fashion gene...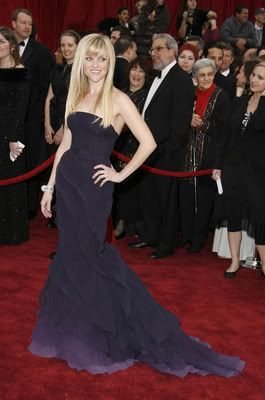 My favorite look of the evening was Penelope Cruz in a Versace confection. I've got to give the gal kudos for pulling off the cool toned dress in spite of her olive complected skin. Her dress looks like it is worthy of this type of event.
Reese also worked it, wearing Nina Ricci. We saw her in Nina Ricci at the Golden Globes, too. Why change a good thing? The dress starts out alluding class, and as it nears the bottom, it throws in a bit of sass. I loved it. Reese's hair looked sleek too, although I thought the bangs were too heavy on her face for such a formal event.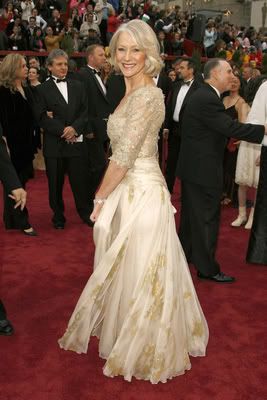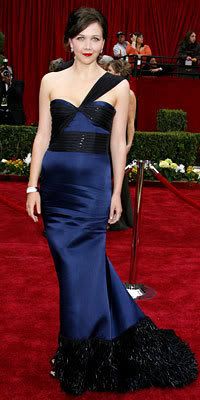 Throughout this award show season, Helen Mirren deserves the crown for "queen of the red carpet." The woman literally shines. It's not just her dress that's beautiful, but her hair, makeup, and general relaxed confidence.
A post-preggers Maggie Gyllenhaal showed us that motherhood doesn't mean you need to hide your curves. Her Proenza Schouler sapphire-toned gown accented her old-Hollywood style nicely.
One trend that I hope dies really soon, was found on the likes of Nicole Kidman and Anne Hathaway: bows. Women are not Christmas trees, nor are we Christmas presents. Bows look ridiculous unless you're of age to eat off the kids menu. Both Nicole and Anne's dresses were pretty alone, but the bows were a bit much. Yuck-yuck-yuck.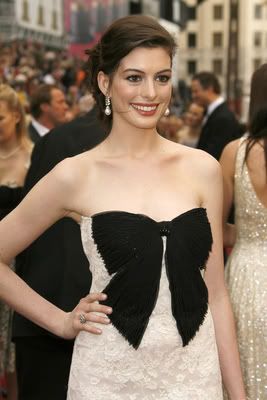 What are your Oscar hits and misses this year?




















Photos courtesy of Yahoo, EOnline and Style.com.