These aren't your Granny's pantyhose...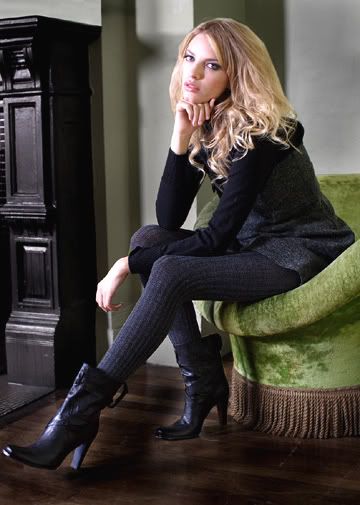 Tights are back.
F. Cali wrote about them last fall
, and the stretchy stockings decorated the spindly legs of fall runway models from Gucci to Temperley, Chloe to Anna Sui. Three distinct versions of tights are popular this year. And they don't include anything labeled "nude" or "sandy beige." In other words, these aren't your Granny's pantyhose.
Opaque
Definitely the easiest version to pull off, but opaque tights are anything but boring. Opaque tights are incredibly slimming and classy. While the traditional dark colors are best for professional settings, opaques in colors like red, pink and green can add a little tart to a boring outfit. Solid tights are versatile enough to work in just about any ensemble, including monochromatic looks and patterned garb. Don't forget to have fun playing up the shoes!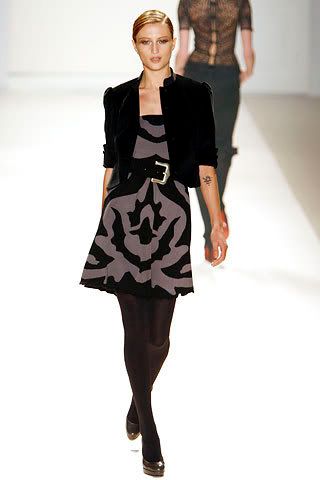 Temperley
Patterned

Don't be afraid. Patterned tights are intimidating, but offer lots of panache if you're willing to give them a shot. Stick with vertical pin stripes, polka dots, or simpler patterns. Overly busy patterns, horizontal stripes, and gratuitous color will make you look heavier. Dark backgrounds are a helpful guide in matching patterned tights with your outfit. Pairing patterned tights with solid dresses or skirts is the obvious choice, but don't shy away from mixing with patterned clothing. Stick with a similar color palette and create a mosaic look for added drama. Solid, subdued heels are best for this look.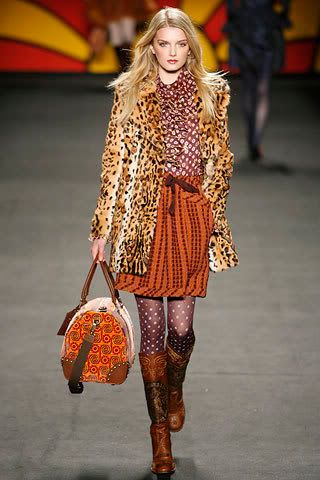 Anna Sui
Textured

Wooly tights serve a dual purpose, first for fashion, and second for warmth. Because textured tights produce a cold-weather look, they work very well with wooly sweaters, plaid skirts and classic tweed. Textured tights look fabulous with knee-high boots.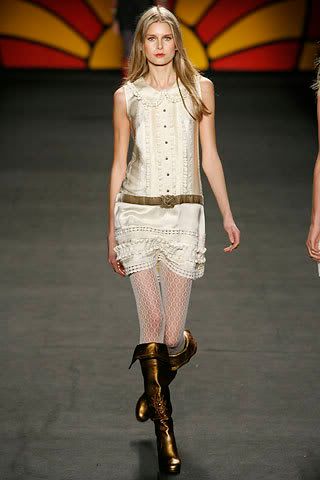 Anna Sui

For a variety of styles and colors, visit the below vendors:

Stocking Girl

Wolford

Look From London

Fogal

Legwear Resource
My Tights

Photos courtesy of Style.com.