Product Review: John Frieda's Sheer Blonde Tousled Tresses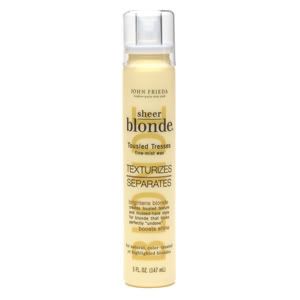 The Claim
John Frieda's Sheer Blonde Tousled Tresses Fine Mist Wax lifts and loosens layers while creating mussed-have style for blonde that looks perfectly "undone." Adds detailed separation for a look that's deliberately disheveled. Contains a lightweight, micro-fine wax to create tousled style, while delivering soft hold with touchable texture. Non-yellowing, non-darkening formula, with chamomile and sunflower seed extracts, helps blonde color stay bright. For natural, color-treated or highlighted blondes
The Observation
My hair is cut short, in what one might call, the "inverted bob." It's baby fine and straight, so the quest for body, bounce and volume is never over. I had high expectations for this purchase because I've had a lot of hair success using John Frieda's other products. I normally use a regular wax pomade in styling my hair, so I was interested in the concept of a "fine mist wax."
My first observation, was the unique bottle. At first glance, the bottle appears to be any regular, plastic styling bottle. But instead of a typical air pump, the nozzle is made like an aerosol pump. And the product sprays like an aerosol spray. It's very unique.
I followed the directions, washing and blow-drying my hair completely, before using the product. Manufacturer directions are below:
Shake well. Spray on dry hair and run fingers underneath in a zigzag motion, from the scalp to the ends, to create a tousled look. For added definition, spray product on hands and run fingers through sections to separate pieces.
Most mornings, I use a 2.5-inch and a 1-inch barreled curling iron on my hair. After I had appropriately styled my hair with my curling irons, I sprayed a light layer of the product on my hair. I immediately began to run my fingers underneath my hair, from the base of my neck, upwards. The product definitely delivered a "disheveled" look, but it wasn't really the desired "bed head" look I was going for. Problem is, the mist dries fast. And if you don't perfect the "disheveling" on the first try, you're stuck with it. And there's no brushing it out, because you end up flattening any body previously created. In the infamous words of Eminem, "you've got one shot---one opportunity."
The next day, I though I'd try something different. I washed my hair, and blow dried it with a diffuser. My hair waves when I style it this way, even though it's normally stick straight. On my dry-diffused hair, I sprayed a light mist of the wax. This time, the "disheveled effect" was perfect. It tamed any of my wavy fly-aways, yet gave my hair an edgy look. I also scrunched the bottom half of my hair with the product, spraying it into my hands to apply. I was pleased with how well this worked.
I still have yet to figure out how this product and straight hair can work together, but overall, I'm happy with the purchase. And while it's marketed toward blondes, it's colorless, meaning that I think it would be okay for any hair color. A little bit of this product goes a long way, so I anticipate it will last me a long time.
Photo linked to online vendor.