Project Antique Chic
Every fashionista needs a boudoir that's just as fashionable as she. A design trend referred to as "Shabby Chic" features deliberately worn and deteriorated items including furniture, fabrics, lighting and accessories, and is perfect for a fashionista desiring understated splendor and charm.
So, what is it? The style originates from the early-half of the 1900s when ornate Victorian pieces merged with simple, plank-like construction. Its comfortable, casual look boasts a simple elegance found in the details. Facets of the style include assorted shades of white accompanied by pastel shades of pink, green, blue and purple.
Shabby Chic champions affordability, claiming unique finds at flea markets, antique malls, retail centers, the internet, and the ability to custom make your own pieces. The queen of Shabby Chic is interior designer, Rachel Ashwell, founding her own vintage empire of merchandise bearing the style and name. Ashwell's line can be purchased at Target stores. Additional Shabby Chic merchandise can be purchased at theBellaCottage.com, Spiegel.com, ClassicChic.com, and Anthropologie.com.
Antique Furnishings
Shabby Chic style prides itself by offering several varieties of furniture from which to choose. Swanky mirrored pieces add a glamorous touch. Overstuffed sofas with slipcovers are a staple, as are gently distressed wicker and weathered wood pieces. Pieces should exhibit signs of gentle wear and tear, while remaining structurally strong. White is a common paint color among Shabby Chic style furniture, with many layers of paint and wood peeking through. The white color exhibits a sense of freshness that balances the worn shabbiness.
You can create your own distressed and weathered furniture by sanding corners and roughing-up existing pieces of wicker or wood furniture. Distressing kits are also available at your local craft store.
Not all furniture must act as its typical function suggests, such as sitting. A sturdy, distressed wooden chair can be used as a bedside stand or a corner table to hold a vase of flowers or a stack of books.
Romantic Fabrics
Shabby Chic fabrics are created to look old, worn, faded and soft. Fabrics are used for furniture slipcovers, pillows, bedding, bath linens and accessories such as handkerchiefs, aprons and table cloths. Various prints and colors are meant to be combined, including florals, stripes and checks. The goal is to mix-and-match, keeping in mind similar base colors. Surprisingly, unique patterns and colors work well together.
New fabrics can be made to look old by a process known as tea-staining, where the fabric is rinsed in freshly brewed tea, rinsed with cool water and then allowed to dry. New fabric is sold by the yard at your local fabric store or at
ShabbyChic.com
or at
FlapperGirlFabrics.com
.
Vintage Lighting
A crystal chandelier is an essential ornament for any authentic Shabby Chic-themed abode, but is far out of price range for many fashionistas. Nevertheless, there is hope for the thrifty fashionista. I purchased this authentic Venetian crystal chandelier last year from
GreatChandelier.com
for only $99. It required assembly, but the price was worth the minor inconvenience!
Additional desirable lighting includes lamps with a porcelain or crystal base, or sconces with crystal pendants, beads or embellishments.
Nostalgic Accessories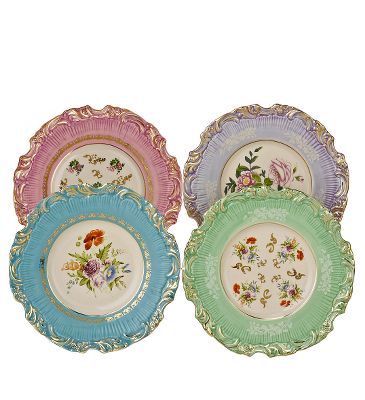 Accessories are the most exciting component of Shabby Chic style. Locating the balance of elegance with old worn in the style can be attributed to accessories. Imperfect accessories bring out authenticity, style and interesting detail to a shabby chic space. Functional pieces include crystal door knobs, glass vases, ornate candlestick holders, and mismatched floral porcelain plates. Ornamental pieces include jeweled or mirrored photo frames, decorative hatboxes and vintage dress forms. Look for Victorian-themed accessories at
VictorianTradingCo.com
.
Vintage photographs can be found at antique stores and provide an inexpensive and authentic way to enhance tabletops, shelves or walls. Colors in vintage photographs range from true black and white to sepia-toned. Antique cameras can also be purchased at antique stores and at bargain prices and make intriguing conversation pieces.
The packaging of Crabtree & Evelyn bath and beauty products compliment a powder room vanity nicely, along with antique perfume bottles and a distressed, beveled Venetian mirror.
Complete your Shabby Chic aesthetic with fresh cut flowers, especially roses and peonies. They add a fresh look--and smell--to every well-dressed room!