Golden Globes Ooh's and Ew's
The Golden Globes officially kicked off the Red Carpet Season, offering plenty of "ooh's" and "ew's" to be shared by all. Unfortunately though, there were far more "ew's" that "ooh's." A major, yet Oscar-06 recycled, theme surfaced with white gowns, most of them taking the form of a bedsheet (see Salma Hayek, Drew Barrymore, and Heidi Klum). But it was the jewel-toned dresses that shone the brightest.
The "ooh's"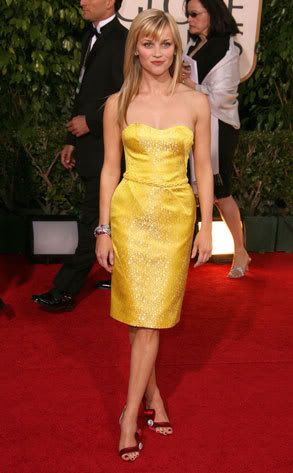 Yellow is not an easy color to pull off, but Reese Witherspoon, in a Nina Ricci frock, positively glowed. Her skin was rosy and brilliant, and her hair shiny and glazed bright blonde. Reese was a walking yellow diamond.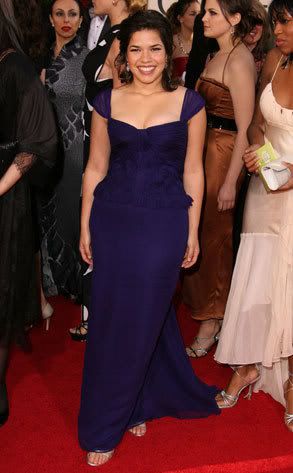 America Ferrera has split-personality disorder, and it's name is Ugly Betty. However, Ugly Betty was nowhere to be found on the red carpet. At only 22 years old, she's ushering in a promising career in silken style, choosing a classy and flattering gown by Brian Reyes. I love the half-cap sleeves and how the indigo dress hugs her curves nicely, but her big smile was the best accessory of all.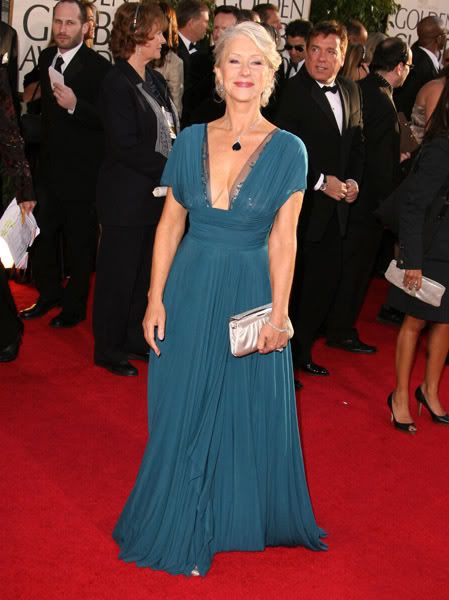 Hail, hail, the Queen of the red carpet! Helen Mirren appeared in a navy Donna Karan gown, befitting of her royal role. She's so lovely! Helen teaches a Fashionista a good lesson, proving that age and beauty are not mutually exclusive.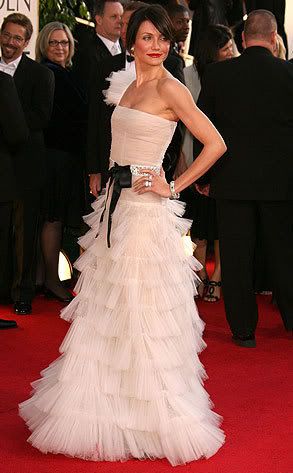 Cammy's bringin' sexy back, and it's in the form of Valentino couture. It won't be a popular choice, but I gotta give the girl credit for understanding how to dress her lanky frame. She looks like old Hollywood glamour with her jet black hair and starlet makeup. My only complaint is the random strap. The dress could stand alone.
Honorable "ooh's"
If it's possible to make a statement with no color, then Kate Winslet succeeded in a elegant Azarro gown.
Rachel Weisz dazzled like a ruby in a classic Bill Blass strapless dress.
Senorita Penelope Cruz sashayed in a frilly Chanel couture accoutrement, designed by her good friend, Karl Lagerfield.
Katherine Heigl reminds me of the original Barbie. You know, the one that was the caberet singer with the mermaid-style black dress and bouncy blonde coif. Her Escada piece is fabulous, yet safe.


The "ew's"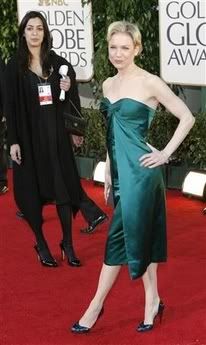 The resident red carpet pucker pout, Renee Zellweger, didn't disappoint with her impression of "bitter grapes." Her scowl was so distracting, that I forgot to complain about that horrid dress.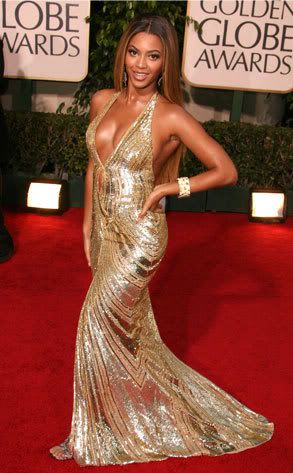 To the left, to the left. Every sequin you own on the dress to the left. Way to be original B. We've never seen this dress on you before. And the way they greased you up, I'd swear you were made of plastic.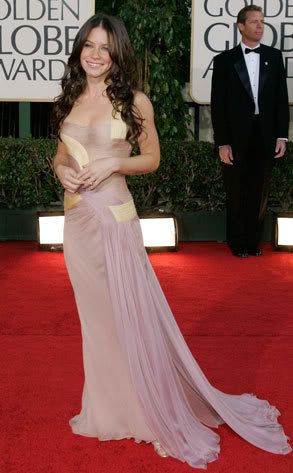 Yawn...... Evangeline Lilly...... blah, blah, zzzzzzzzzzzzzzzzzzzz......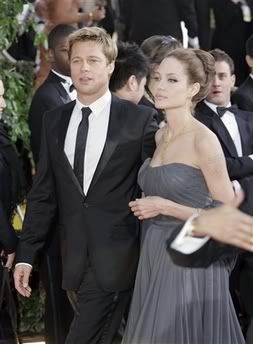 And the award for the "Most Overrated Couple of the Year" goes to... Brangelina! You'd think that with Malibu Ken on her arm, she'd be a little less frigid and a little more ecstatic to be there. Would it kill you to smile, ice princess?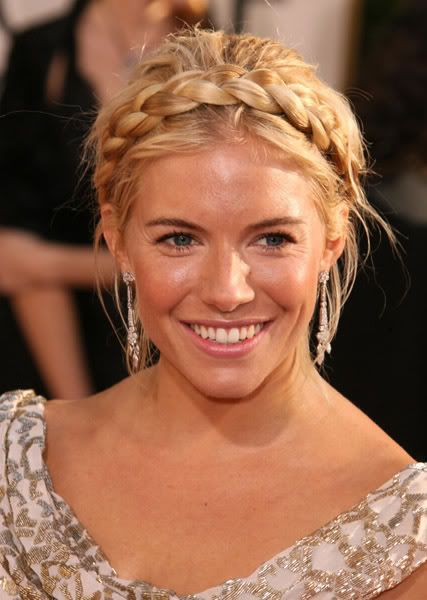 Yodelee-he-hoo! Heidi, did you buy your clip-on braid at the mall kiosk?
Gals, Sienna is a spring chicken of only 25, but do you see how she's got some premature aging in the form of crow's feet around her eyes? That's what smoking does to you. Give her ten more years and she's going to look like an old woman. Don't do it gals. Hit the nicotine now and you'll hit the botox later.




Photos courtesy of Eonline, Yahoo News, and PopSugar.